History
WingBasket was started from a need for a true specialized Chicken Wing store offering the best wings, at the best prices, with the best sauces, available anywhere in America. There are many restaurants that specialize in chicken and many that specialize in chicken wings. Only WingBasket has perfected the combination of sauce and chicken to offer our customers the quality and flavor the true wing lover desires.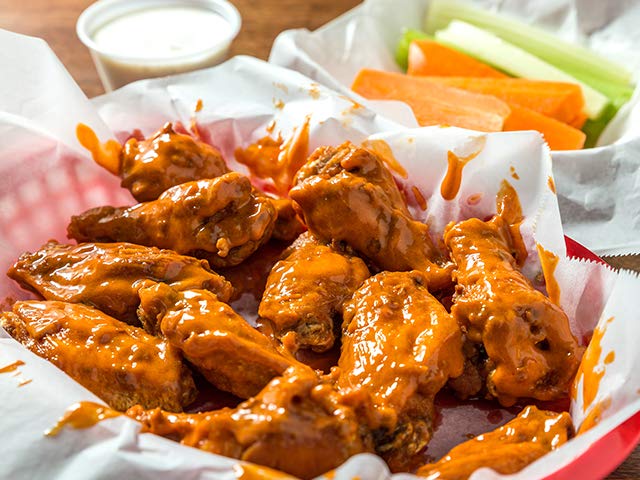 Concept
The concept for WingBasket was researched and designed by a full line successful restaurateur. His desire was to find the best wings in size and weight and combine them with the most popular and innovative sauces. Once this was determined, the desire was to offer this combination at reasonable prices for carryout as well as a pleasant eat-in experience. The informal picnic decor and the fantastic eating experience have made WingBasket the premier wing specialty restaurant. Wings, not breaded, fresh and consistent in size for the best flavor.
Side items, selected for the most desired items to combine with wings and sauces.
Limited menu, so we do chicken the way it should be done.
No burgers, no pizza.
Chicken wings and tenders prepared as you order them. Fresh, hot, sauced and delicious.
At WingBasket nothing is "out of the can."
Everything we serve is made fresh right here in the restaurant. The sauces are exclusive to WingBasket, made from the freshest ingredients. It's ALL about the Sauce ingredients and designed to cover your wings and tenders with flavor not available anywhere else. We prepare these sauces almost every day and you will notice the great, fresh flavor each time you eat at WingBasket.
Why do we charge for the ranch and blue cheese dressings? Our ranch and blue cheese are made fresh in the store. The ranch and blue cheese are not poured from the bottle, they are specially prepared for our serving cups so you can enjoy the special flavors only fresh ranch and blue cheese provide.
The Picnic Pasta and the sweet or garlic bread sticks are made with our own secret recipe, made fresh in the store and served picnic style to enhance the dining experience of our fresh wings and tenders.
Speaking of Wings and Tenders; our chicken is brought in twice per week, fresh, never frozen. The wings are fried without coating, covered with your choice of our great sauces and served hot. The Voted Best Wings in Nashville tenders are gently covered with our own secret coating and fried to perfection. The size of our tenders will astound you, these are not nuggets, but true tenderloin chicken, hand prepared and the flavor will bring you back time and time again.